There are a lot of ways to enjoy breaded chicken cutlets. You can have them plain, with some dipping sauce on the side, or you can get creative and top them with all sorts of delicious things. Here are some ideas for what to serve with breaded chicken cutlets:

-A simple salad of mixed greens and cherry tomatoes-Roasted Brussels sprouts or other roasted vegetables-Fresh fruit salad

-Baked sweet potato wedges
When it comes to breaded chicken cutlets, there are so many delicious possibilities! Here are a few of our favorite sides that pair perfectly with this classic dish:-Roasted potatoes: Cut some Yukon gold potatoes into wedges, toss with olive oil and sea salt, and roast in a 400 degree oven for 20-25 minutes.

-Green beans: These can be steamed, sautéed, or roasted. For an easy preparation, toss green beans with a little olive oil and sea salt, then roast in a 400 degree oven for 10-15 minutes.-Cauliflower rice: This low carb option is a great way to bulk up the meal without adding any extra calories.

Simply cook cauliflower rice according to package directions (usually just requires microwaving), then stir in some chopped scallions or parsley for flavor.-Salad: A simple green salad is always a refreshing option alongside breaded chicken cutlets. Just be sure to avoid anything too heavy or creamy so that it doesn't weigh down the dish.
The Easiest Homemade Chicken Katsu
What Goes Good With Chicken Cutlets?
There are many different ways to cook chicken cutlets, but one of the most popular is to bread and fry them. This gives the chicken a crispy exterior that can be paired with any number of dipping sauces or side dishes. Some of the most popular sides for fried chicken cutlets include mashed potatoes, green beans, and coleslaw.

For those looking for a healthier option, grilled chicken cutlets go great with roasted vegetables or a salad. No matter how you choose to prepare your chicken cutlets, there are plenty of delicious sides that will complement them perfectly.
What Can You Eat With Breaded Chicken?
Breaded chicken is a classic comfort food that can be enjoyed in a variety of ways. Here are some ideas for what to eat with breaded chicken:-Serve breaded chicken with mashed potatoes and gravy for a hearty meal.

-Enjoy breaded chicken as part of a picnic lunch with potato salad and coleslaw. -Make a sandwich with breaded chicken, lettuce, tomato, and mayo or your favorite sauce. -Try breaded chicken nuggets with dipping sauces like honey mustard or BBQ sauce.

-Pair breaded chicken with steamed vegetables and rice for a balanced meal.
What Sides Go With Chicken Patties?
When it comes to chicken patties, there are a variety of sides that can be paired with them. Some popular choices include french fries, potato salad, macaroni salad, and coleslaw. Other great side dish options include roasted vegetables, baked beans, rice, or quinoa.

No matter what you choose to serve with your chicken patties, be sure to add some fresh fruits or vegetables to the mix for a complete and balanced meal.
What is a Good Side With Chicken?
There are many good sides with chicken, but some of our favorites include roasted vegetables, mashed potatoes, macaroni and cheese, and green beans. No matter what your taste buds are craving, there's a chicken side dish out there that will satisfy everyone at the table.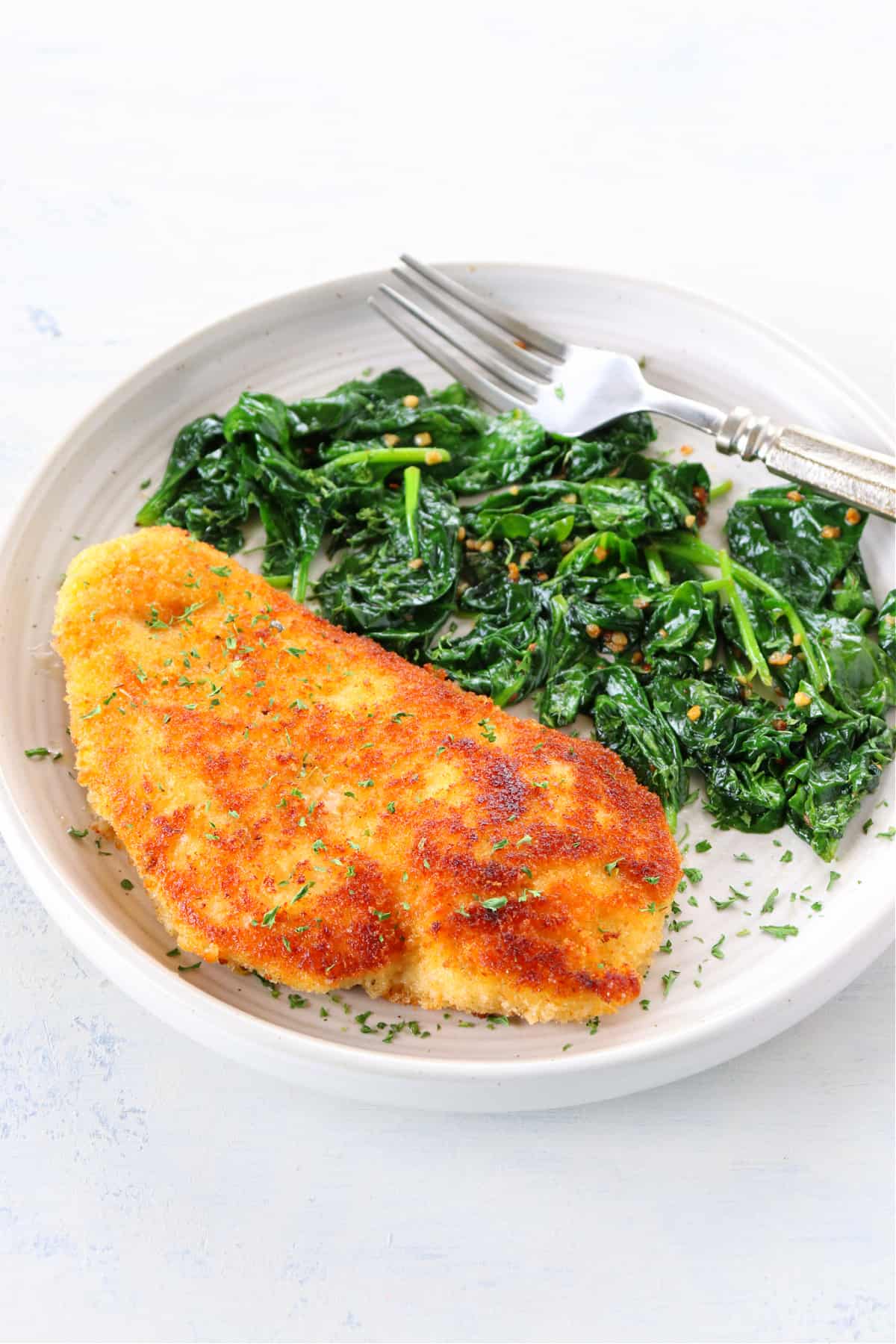 Credit: www.crunchycreamysweet.com
What to Serve With Fried Chicken Cutlets
Most people think of fried chicken as a comfort food, and it can be enjoyed as part of a casual meal. However, if you want to dress up your fried chicken cutlets, there are several sides that can elevate the dish.
For something heartier, add roasted potatoes or sweet potato wedges to the mix. And don't forget the biscuits! Serve them warm out of the oven with honey butter for an extra special touch.
If you're looking for even more ideas, consider serving your fried chicken cutlets with roasted Brussels sprouts or green beans. For a truly Southern-inspired meal, pair them with collard greens or black-eyed peas. And no matter what side dishes you choose, make sure to have plenty of hot sauce on hand – it's essential for dipping!
What to Serve With Italian Chicken Cutlets
When it comes to chicken cutlets, there are endless possibilities for what to serve them with. But when you're looking for something specifically Italian, these recipes will hit the spot.For a classic chicken and pasta dish, try serving your cutlets over some hearty tomato sauce and rigatoni.

If you want something a little lighter, pair them with a simple arugula salad and some crusty bread. And for a fun twist on the traditional chicken parmesan, top your cutlets with mozzarella cheese and roasted tomatoes before serving over spaghetti squash.No matter how you serve them, these Italian chicken cutlets are sure to be a hit!
What to Make With Chicken Cutlets
Whether you're looking for an easy weeknight dinner or meal prep recipe, chicken cutlets are a great option. They cook quickly and can be used in a variety of dishes. Here are some of our favorite recipes to make with chicken cutlets.
Chicken Parmesan is always a hit. This classic dish features breaded chicken cutlets topped with tomato sauce and mozzarella cheese. Serve it over spaghetti for a complete meal.
For something lighter, try Chicken Caprese. This dish features chicken cutlets topped with fresh tomatoes, basil, and mozzarella cheese. It's a great summertime recipe that can be served as is or over greens.
Craving Mexican food? Chicken fajitas are the perfect solution. Season chicken cutlets with your favorite fajita seasoning then cook them up with peppers and onions.
Serve on warm tortillas with all your favorite toppings.
Conclusion
Breaded chicken cutlets are a versatile dish that can be served with a variety of sides. Some popular options include roasted vegetables, mashed potatoes, salad, and rice. When choosing what to serve with your breaded chicken cutlets, consider the overall flavor and texture of the dish.

For example, if you're serving a creamy sauce with your chicken, you might want to balance it out with something light and crisp like a salad or roasted veggies.
Helen's your eternally cheerful, next-door suburban mom that genuinely enjoys sharing with the whole neighborhood her latest fresh-from-the-oven culinary creations. She's also a treasure trove of kitchen hacks and DIY advice if you have the patience to listen to her life story on repeat and the latest news on her son, Marv, and on how great he's doing on the college football team. Fortunately, she agreed to leave her kitchen wisdom in writing as well when one of our editors with saintlike patience asked her to.