The Pioneer Woman Crockpot Cheesy Potatoes are a delicious and easy way to make a comforting side dish. These potatoes are full of cheesy goodness, and the slow cooker makes them extra creamy. This recipe is sure to become a family favorite.
Pioneer Woman Crockpot Cheesy Potatoes are the perfect side dish for any meal! They are easy to make and so cheesy and delicious. I love to make them for potlucks or family gatherings because they are always a hit.

Plus, they can be made ahead of time which is a huge plus in my book.
Crockpot Cheesy Potatoes
1) What Inspired You to Create This Recipe
When it comes to food, I am constantly inspired by the amazing flavours and ingredients that are available to us. This recipe is no exception – it was inspired by the beautiful, fresh strawberries that are currently in season. I wanted to create a dish that would showcase their flavour, while also being simple and elegant.

This recipe for Strawberry Mousse ticks all of those boxes!Strawberries are one of my all-time favourite fruits, so I knew that they would be the perfect star ingredient in this mousse. The combination of sweet strawberries and rich cream is simply irresistible.

And, because this mousse is made with just a few simple ingredients, it comes together quickly and easily. Trust me, your friends and family will be impressed!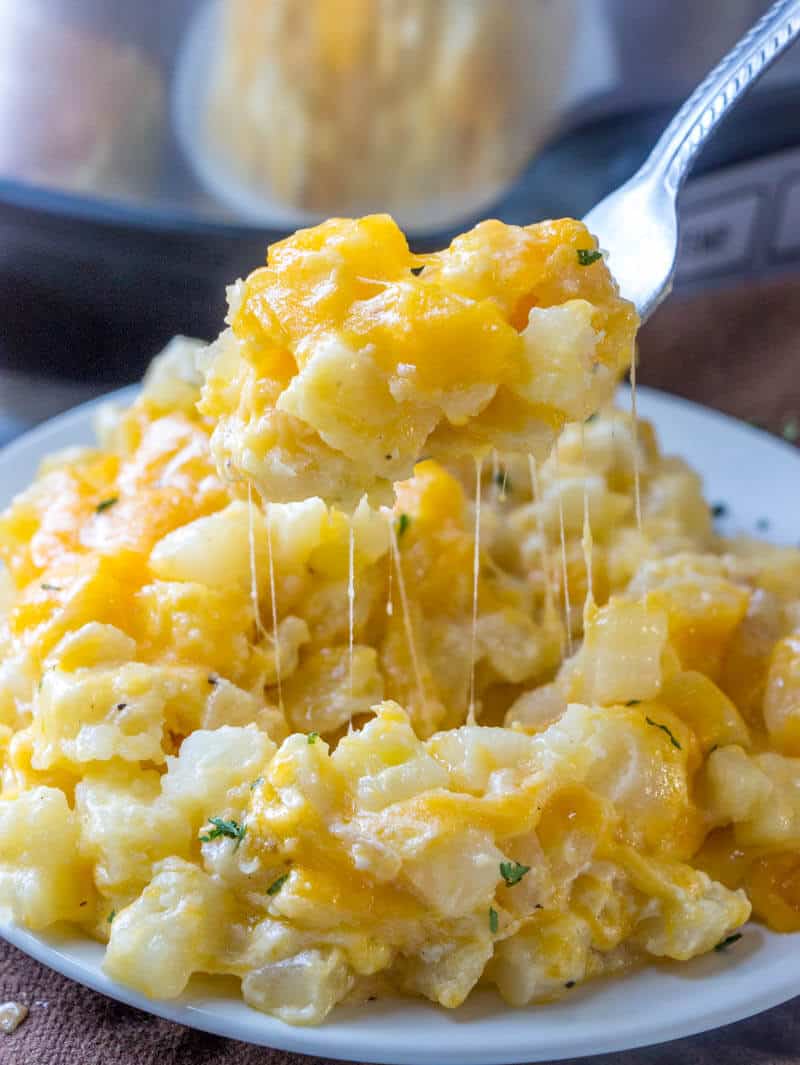 Credit: tornadoughalli.com
Crockpot Cheesy Potatoes Allrecipes
Crockpot Cheesy Potatoes are a delicious, easy-to-make side dish that is perfect for any occasion. Made with just a few simple ingredients, these potatoes are cooked in the crockpot and then covered in cheese for a rich and creamy dish that everyone will love.
Healthy Crockpot Cheesy Potatoes
There's nothing like a comforting, cheesy potato dish – and this healthy Crockpot Cheesy Potatoes recipe is the perfect way to enjoy them! These potatoes are cooked in the Crockpot until they're nice and tender, then covered in a delicious cheese sauce. They make the perfect side dish for any meal, and can easily be made ahead of time.

To make these potatoes extra- creamy and cheesy, I like to use a combination of cheddar and mozzarella cheese. You could also use all cheddar, or mix in some other variety that you love. I've found that using low-fat cheese doesn't work as well in this recipe – it can be a bit grainy and not as flavorful.

So go ahead and use full-fat cheese for the best results! These Crockpot Cheesy Potatoes are pretty darn simple to make. Just wash your potatoes (I leave the skin on for extra fiber and nutrients), chop them into bite-sized pieces, and place them in the bottom of your Crockpot.

Then, whisk together the cheese sauce ingredients – milk, flour, seasonings, and cheeses – and pour it over top of the potatoes. Give everything a good stir so that the potatoes are evenly coated with sauce. Cover the Crockpot and cook on low for 4-5 hours, or until the potatoes are cooked through.

Then, turn off the heat and let the pot sit for 5 minutes to thicken up before serving hot!
Crockpot Funeral Potatoes
When it comes to comfort food, few dishes can rival funeral potatoes. This dish is typically made with shredded cheese, cream of chicken soup, and sour cream, making it rich, creamy, and oh-so-delicious. And while funeral potatoes are delicious no matter how prepared, there's something special about making them in a crockpot.

Slow cooking gives the potatoes time to absorb all of the flavors from the other ingredients, resulting in a dish that's truly packed with flavor. Plus, since you don't have to stand over the stove and stir everything together, making funeral potatoes in a crockpot is practically effortless. Simply combine all of your ingredients in the pot and let it do its thing!

If you're looking for a comforting dish that's sure to please everyone at your next gathering, give Crockpot Funeral Potatoes a try. You won't be disappointed!
Conclusion
In her blog post, Pioneer Woman Crockpot Cheesy Potatoes, Ree Drummond gives a step-by-step guide on how to make her delicious and easy cheesy potato dish. She starts by prepping the potatoes by peeling and slicing them into thin pieces. Next, she layers the potatoes in the crockpot with cheese, butter, cream of chicken soup, garlic powder, salt, and pepper.

Then, she sets the crockpot to cook on low for 6 hours. After 6 hours, the potatoes are tender and cheesy – perfect for serving as a side dish!
I'm Asma Sheikh, a home cook and recipe developer with a passion for all things food. On my blog (The Kitchen Advisor), you'll find everything from healthy weeknight dinners to decadent desserts, and everything in between. So whether you're a seasoned home cook or just getting started in the kitchen, I hope you'll find something here that inspires you to get cooking!