If you're looking for a delicious and easy breakfast, look no further than cheese grits. Cheese grits are a southern favorite that can be made in just minutes. And if you have leftovers, they reheat perfectly.

Here's how to reheat your cheese grits so they're nice and creamy.First, add your leftover cheese grits to a microwave-safe dish. Then, add a splash of milk or cream to the dish.

This will help keep the grits from drying out as they reheat. Next, heat the grits on high for 1-2 minutes, or until heated through. Stir the grits halfway through heating to ensure even cooking.

Lastly, add a little more cheese on top and serve hot!
Preheat oven to 375 degrees F
Spread cheese grits in an even layer on a baking sheet
Bake for 5-7 minutes, or until heated through
Enjoy!
How Do You Revive Leftover Grits?
If you have leftover grits, there are a few ways you can reheat them and enjoy them again. One way is to put the grits in a microwave-safe dish and heat them on high for 1-2 minutes. You can also add a little water or milk to the grits before reheating to help soften them up.

Another option is to reheat the grits on the stovetop over low heat, stirring frequently. If your grits are dry or too thick, you can thin them out by adding a little more water or milk. Whatever method you choose, be sure to watch the grits closely so they don't overcook or burn.
Can Shrimp And Grits Be Reheated?
Yes, shrimp and grits can be reheated. However, it is important to note that shrimp are very delicate and can easily become overcooked. When reheating shrimp and grits, be sure to do so gently and carefully.

To reheat shrimp and grits, begin by heating the grits in a pot over low heat. Once the grits have warmed through, add the shrimp. Heat the shrimp until they are just cooked through; be careful not to overcook them or they will become tough and rubbery.

Serve immediately.
Can You Microwave Leftover Grits?
If you're like most people, you probably have a few packets of grits sitting in your pantry. And if you're like most people, you probably don't know what to do with them. Grits are a Southern staple that can be eaten for breakfast, lunch, or dinner.

But how do you cook them? And can you microwave leftover grits?Here's everything you need to know about cooking grits:

What are grits? Grits are made from ground corn and are popular in the Southern United States. They can be either white or yellow and are usually served as a side dish.

How do you cook grits? Grits can be cooked in one of three ways: on the stovetop, in the microwave, or in an Instant Pot.Stovetop: To cook grits on the stovetop, bring 4 cups of water to a boil and stir in 1 cup of grits.

Reduce the heat to low and simmer for 20-30 minutes, stirring occasionally.Microwave: To cook grits in the microwave, combine 2 cups of water and 1 cup of grits in a large bowl or mug. Microwave on high for 5 minutes, then stir and continue microwaving at 2-minute intervals until the mixture is thickened and creamy.

Instant Pot: To cook grits in an Instant Pot, combine 1 cup of dry grits with 4 cups of water (or chicken broth) in the pot. Set it to "manual" mode for 5 minutes at high pressure; once finished cooking, let the pressure release naturally for 10 minutes before opening the lid.
Can You Reheat Grits Casserole?
Grits casserole is a dish that can be made ahead of time and reheated when needed. It is a great option for busy weeknights or for feeding a crowd. When reheating grits casserole, it is important to use low heat so that the dish does not dry out or become overcooked.

Additionally, add a little bit of water or milk to the dish before reheating to help keep it moist. Finally, be sure to stir the casserole occasionally while reheating so that all of the grits are evenly heated through.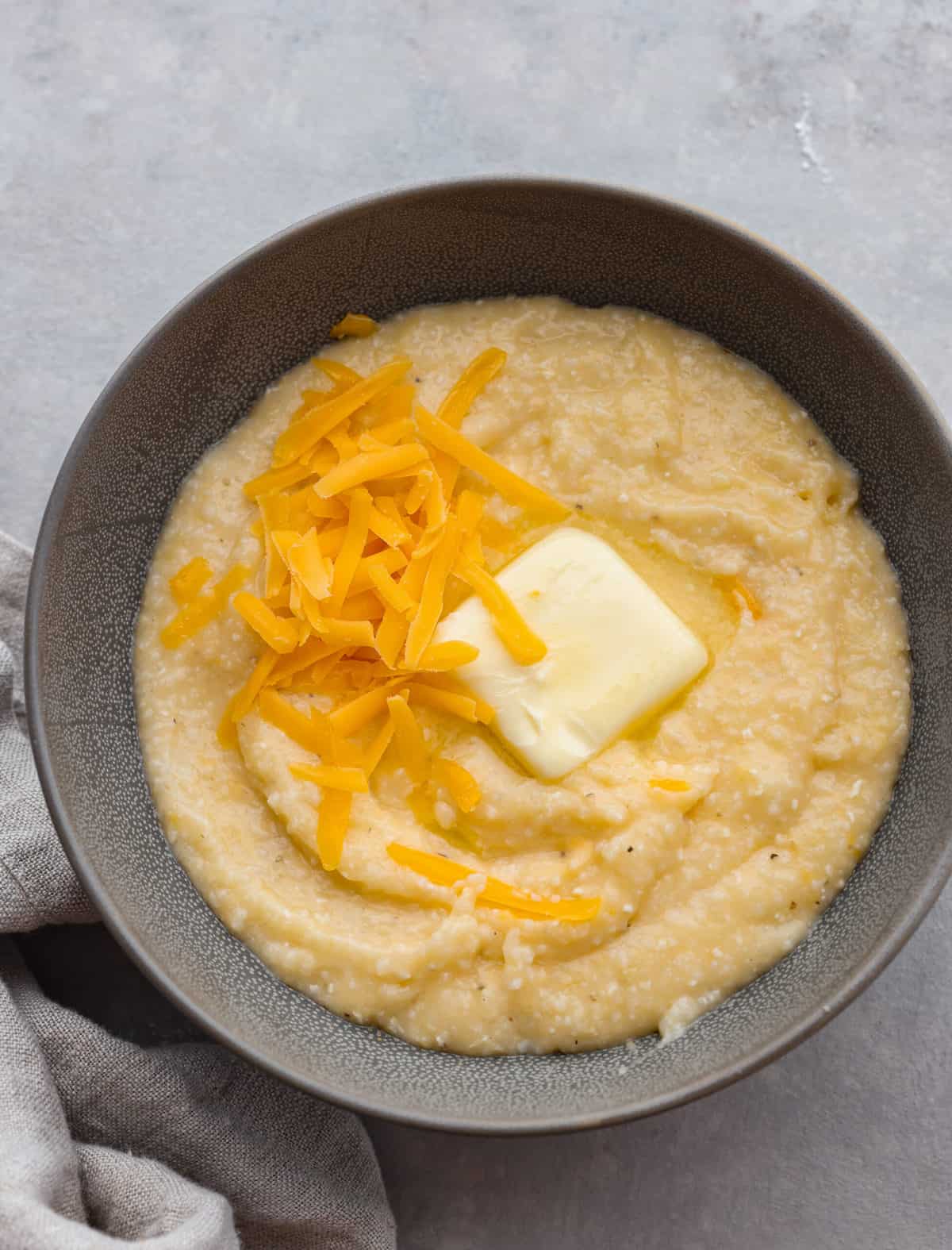 Credit: therecipecritic.com
How to Warm Up Grits on Stove
If you're a fan of grits, then you know that there's nothing quite like a piping hot bowl of this delicious Southern staple. And while most people think that the only way to make grits is in a microwave, it's actually quite easy to cook them on the stove. Here's how:

1. Start by bringing some water to a boil in a pot. The amount of water you'll need will depend on how many grits you're making. For every 1 cup of dry grits, you'll need 4 cups of water.

2. Once the water is boiling, stir in the grits and reduce the heat to low.3. Cook the grits for about 5 minutes, stirring occasionally, until they're soft and creamy.4. Add some butter and cheese (if desired) and serve hot!
Reheating Grits in Microwave
Grits are a type of cornmeal that is popular in the southern United States. They are usually made from white or yellow grits, but can also be made from blue or red corn. Grits can be eaten as a hot cereal, porridge, or side dish.

They can also be used in savory dishes such as shrimp and grits.If you have leftover grits, they can be reheated in the microwave. Just add a little water to them and heat for 1-2 minutes.

You may need to add more water if they seem too dry. Once they are heated through, you can add any additional toppings or flavors that you like.
How to Eat Leftover Grits
When it comes to leftover grits, there are a few different ways that you can go about eating them. One option is to simply reheat the grits and eat them as is. Another option is to fry up the leftover grits in a pan with some butter or olive oil.

This gives them a crispy texture on the outside while still being soft and creamy on the inside.
Conclusion
If you're looking for a delicious and easy way to reheat cheese grits, look no further! This simple method will help you get the perfect results every time.First, start by heating your grits in a pot on the stove over medium heat.

Once they're hot, add in your desired amount of cheese and stir until it's melted. Then, simply transfer the grits to a microwave-safe container and reheat for 1-2 minutes until piping hot. Enjoy!
Helen's your eternally cheerful, next-door suburban mom that genuinely enjoys sharing with the whole neighborhood her latest fresh-from-the-oven culinary creations. She's also a treasure trove of kitchen hacks and DIY advice if you have the patience to listen to her life story on repeat and the latest news on her son, Marv, and on how great he's doing on the college football team. Fortunately, she agreed to leave her kitchen wisdom in writing as well when one of our editors with saintlike patience asked her to.